Wire Bonding Inspecting System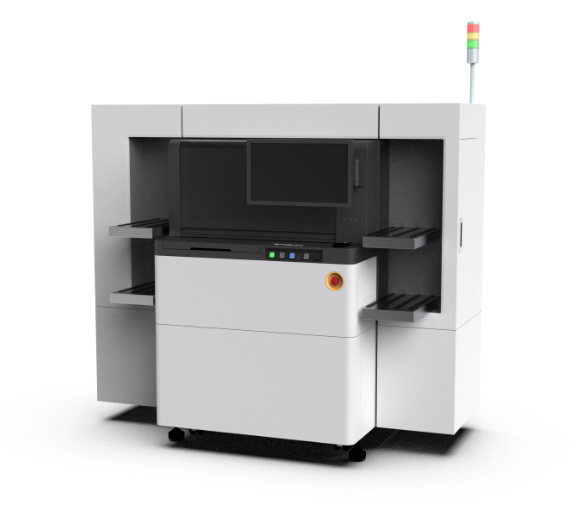 Basic Information
Model name: Wire Bonding Inspecting system
This appearance inspection system facilitates automated and efficient inspections required during the wire bonding process.
Features
1.High Performance 3D Measurement
Equipped with 3D measurement function utilizing the focal point method. Compared to other 3D measurement methods, this method is distinctive for its strength in measuring inclined surfaces and microstructures, facilitating appearance inspections with fewer false positives.
2.Highly Reliable Inspections via Dimension Measurements
Enables the measurement of approximately 20 types of dimensions, such as the apex of wire height and bond width. A standard range is set for the dimensions of each part, facilitating rejections when dimensions falls outside the specified range.
3.Traceability Support
Enables the creation of a traceability environment by reading the 2D code marked on the material and sending it to the host server together with the inspection results. By analyzing the result of each measurement, it is possible to apprehend assembly variations and trends useful for improving the upstream process.
4.Easy Operation
Inspections are easily conducted by simply selecting the name of the product to be inspected and indicating inspection start. Automatic supply and discharge of materials is possible via the loader/unloader.
Main Specs
Inspection Objects

Bonding shape, wire loop shape, clip attitude, chip attitude, foreign body, solder flow, etc.
Compatible Bonding Type

Wedge, ball, clip
Compatible Wire Diameter

50-500um (17–50 um in development)
Measurement Repeatability (3σ)

Vertical direction: 2.0 um
Compatible Material Size

Height: 4.5 mm or less
Min: W 20 mm × L 100 mm
Max: W 100 mm × L 300 mm

Power requirements

200-240V AC, 50/60 Hz, 20A
Compressed Air

0.4 MP or above, 50 L/min or higher
Vacuum

-66.7 kPa or above, 100 L/min or higher
External Dimensions

W: 1,735 mm × D: 957 mm × H: 1,700 mm
(not including signal tower)
Weight

Approximately 900 kg
External Port

LAN, USB 3.0 × 2 ports
Options
Code Reader

QR code, DataMatrixx
Traceability Function

Automated transmission of inspection history to external server
Reject Function

When defect is detected, moves to reject position