Epoxy Die Bonder

BESTEM-D510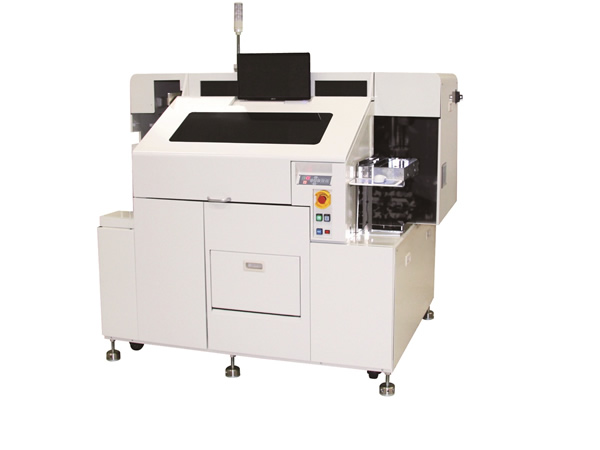 Basic Information
Model name : BESTEM-D510
High-speed, high-accuracy die bonder for IC and LSI compatible with 12 inch wafers.
Features
1.Reduced TCO with high throughput, small footprint and minimized conversion time.
2.Easier adjustment, equipped with rework function realizing excellent operability.
3.Minimizes distance between mount and preform, prevents changes over time and reduces wasted movements.
4.Equipped with newly developed twin dispensing system compatible with various pastes.
5.Needleless pickup system (optional) realizes pickups with no damage.
Main Specs
Bonding Method

Epoxy bonding / thermo-compression bonding (optional)
Bonding Speed

0.18sec/cycle
Bonding Accuracy

XY: ± 25 μm. 3σ
θ: 1°, 3σ (□1.0 mm or above)
θ: 3°, 3σ (below □1.0 mm)
Die Size

□0.3–□8.0 mm t = 0.075–0.5 mm
Optional : □0.15–□2.0 mm (recognition lens conversions)
Lead Frame Size

Length : 100–300 mm
Width : 25–102 mm
Thickness : 0.075–2.0 mm
Magazine Size

Length : 100–315 mm
Width : 35–115 mm
Thickness : 50–200 mm
Pitch : 3mm–
Wafer Size

Max φ12 inch
Power requirements

Power supply : AC 200 V 30 A
Dry air : 0.4 MPa (60 L/min)
Vacuum : -66.7 KPa (100 L/min)
Dimensions

(W) 1,930 × (D) 1,400 × (H) 1,600 mm
(without signal tower when front cover is closed)
Weight

Approximately 1,600 kg
Options
Optional Functions

Magazine stacker loader
Mount heater corresponding (Max 200°C-1ch)
Ionizer blower
Needleless pickup unit
Wafer mapping